Eid ul-Fitr 2010 Signals the End of Ramadan: Eid Mubarak to Muslims Worldwide!
Eid al Fitr 2010 Signals the End of Ramadan: Happy Eid al Fitr to Muslims Worldwide – September 10, Friday will be the end of the Muslim Worldwide fasting of Ramadan. This day is known as Eid Al Fitr and countries with Muslim populations usually declare a nationwide holiday during this day.
Eid in Arabic mens festivity while Fitr means "conclusion of the fast," thus the words "Eid ul-Fitr" symbolizes the celebration of the conclusion of the month of fasting from dawn to sunset during the entire month of Ramadan. The first day of Eid also marks the first day the month Shawwal that comes after Ramadan.
During Eid ul-Fitr, Muslims are required to do Eid-ul-Fitr Salat, which is a Wajib (strongly recommended, just short of obligatory) or mandoob (preferable). It is an Islamic prayer consisting of two raka'ah (units) which is generally offered in an open field or large hall called an Eed-gah. This salaat or prayer, should be performed with Jama'at (i.e., in congregation) with extra six Takbirs (raising of the hands to the ears while saying Allahu Akbar (God is Great), three of them in the beginning of the first raka'ah and three of them just before ruku' in the second raka'ah.
There are two kinds of Eid, the Eid ul-Fitr or "Smaller Eid" and Eid al-Adha or "Greater Eid." Eid-al-Adha, is an Eid which lasts four days following the Hajj or the Muslim's pilgrimage to the Holy Mecca.
During the last day of the Ramadan, all Muslims are commanded by God in the Qur'an to complete their fast and then recite God's praises all throughout the period of Eid.
Here is an Eid ul Fitr Salah (Prayer) in Makkah…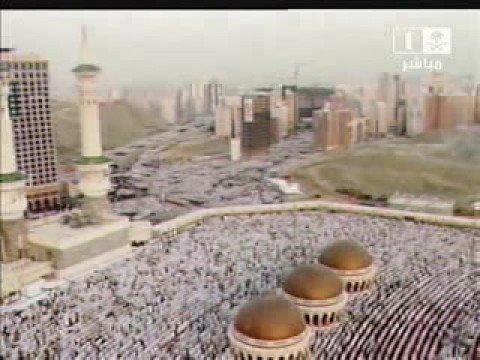 To receive updates from WWNN.co.uk directly to your e-mail, you can subscribe to us for free by
entering your e-mail address here
and confirming your subscription by clicking the link that will be sent to your e-mail address.
Topics: Eid ul-Fitr, Muslim, Muslim prayers, Ramadan, Religion