Germany vs Australia World Cup 2010 Highlights
It was the last game of Day 3 and Australia was full of hope to at least have a decent game against the powerhouse Germany. But during the game itself, everything collapsed and Germany devastated Australia to win 4-0.
Germany's Lukas Podolski and Miroslav Klose scored in the first 30 minutes of the game and then Thomas Mueller and Cacau added two more goals to seal the German victory. Each and every single defense used by Australia coach Pim Verbeek's simply backfired and was exploited by the German squad.
"I think the way we set up our attacks is something we've been working on intensively," Germany coach Joachim Loew said. "But we've also worked on how we play off the ball—to move into unused space. We were very good on the ball tonight, and we created beautiful goals."
The standing record of Germany of not being beaten in the World Cup preliminaries still stands. The last time they were beaten was during the 1982 World Cup against Algeria 2-1. Germany is looking to reach at least round 16.
Germany will be facing Serbia next week, June 19, 7:30pm South African time at the Nelson Mandela Bay Stadium, Port Elizabeth. But before that next game let us see the Game highlights of Germany vs Australia.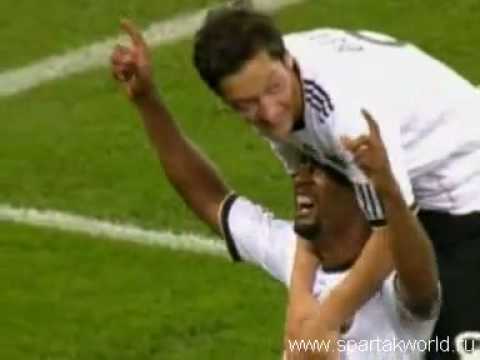 To receive updates from WWNN.co.uk directly to your e-mail, you can subscribe to us for free by
entering your e-mail address here
and confirming your subscription by clicking the link that will be sent to your e-mail address.
Topics: Australia, FIFA, Germany, World Cup, World Cup 2010 Highlights
Latest Headlines
In The News
Two great fighters are expected to
Following the decline in sales for
The NFL Super Bowl is one
Super Bowl XLV has been the
The recently concluded NFC championship which