Lion Attack Caught on Video at MGM
Lion Attack Caught on Video at MGM – After the leak which happened at MGM Resort last week, they are on the news headline once again as a lion in the MGM resort attacked its trainer. The incident was caught on video and reveals how the trainer was surprised to see the lion get upset and decided to take a bite at him.
The video also showed the lion together with a lioness inside their sanctuary at the MGM Resort in Las Vegas. Two trainers were also seen. The two lions was seen relax in the beginning and there was no hint of an impending attack. Out of nowhere the male lion suddenly stood up and attacked the trainer nearest to him.
Luckily the trainer was able to survive the said attack, that is thanks to the other trainer. The trainer attacked by the lion at MGM was treated and released from the hospital after the incident earlier this month.
"What that tells the lion is: that guy's nervous," said Dave Salmoni, a big cat expert on Animal Planet. Salmoni tells CNN during an interview related to the incident that lions have heightened senses that tells them the level of uneasiness of a fellow animal or even humans.
Here is the video uploaded on YouTube detailing the lion attack at MGM: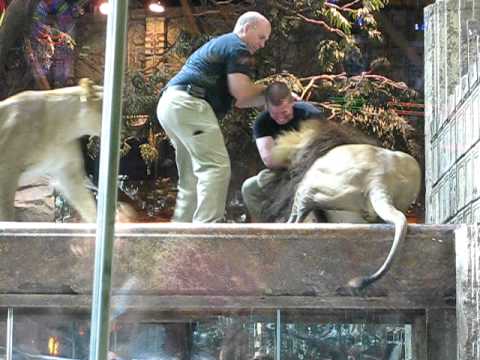 To receive updates from WWNN.co.uk directly to your e-mail, you can subscribe to us for free by
entering your e-mail address here
and confirming your subscription by clicking the link that will be sent to your e-mail address.
Topics: Animan News, Las Vegas, MGM, Videos
Latest Headlines
In The News
Two great fighters are expected to
Following the decline in sales for
The NFL Super Bowl is one
Super Bowl XLV has been the
The recently concluded NFC championship which