Obama's Iraq Address: A Welcome Development
Obama's Iraq Address: A Welcome Development – Many Americans welcomes the Presidential Address dubbed as the historical Obama Speech of August 31. The speech was historical because it announces the end of combat missions In Iraq, draws out a timeline in Afghanistan and sets forth the priority of developing the economy at home and the stability of the United States.
President Barack Obama gives a retrospect to how the war was started and how it was announced in the very same oval office that he is sitting. He also referred to former President George W. Bush as a patriot, a referral which seems to be one of the lightest and favorable so far.
"It's well known that he and I disagreed about the war from its outset. Yet no one can doubt President Bush's support for our troops, or his love of country and commitment to our security," Obama said. "As I've said, there were patriots who supported this war, and patriots who opposed it. And all of us are united in appreciation for our servicemen and women, and our hopes for Iraqis' future."
President Obama continued on how the war had changed and how it affected the lives of Americans at home.
"Much has changed since that night," President Obama said. "A war to disarm a state became a fight against an insurgency. Terrorism and sectarian warfare threatened to tear Iraq apart. Thousands of Americans gave their lives; tens of thousands have been wounded. Our relations abroad were strained. Our unity at home was tested."
In the long speech that follows, Obama did not declare victory in Iraq instead e said that the Iraqi's should be responsible for their own government and their future. Obama also referred to this statement when he stated the government's policy in Afghanistan.
Obama assured many that the surge in Afghanistan will be temporary, "As with the surge in Iraq, these forces will be in place for a limited time to provide space for the Afghans to build their capacity and secure their own future. But, as was the case in Iraq, we can't do for Afghans what they must ultimately do for themselves. "
In the end President Barack Obama said that the government must take care of its own people and must overcome the challenges encountered at home. He said that too much had already been done overseas that the government at some point forgot that it should also maintain its own stability and security.
Most Americans welcome the new development presented in Obama's speech as a brand new start towards peace and a greater focus on their own life in the United States. Overseas, foreign governments welcome the speech as a show of a more participatory and welcoming US government.
Other though, said that there is no difference in what Obama said. Gae Gordon a bartender at Galloping Gertie said, "I want to see something else in the Middle East, but I doubt it ever will. They (the soldiers) are going to get deployed right away over to Afghanistan. No difference."
Here is the full Obama's Iraq Address video…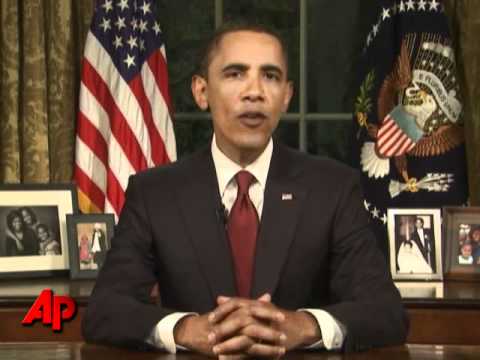 For the Obama's Iraq Speech Full Text CLICK HERE.
To receive updates from WWNN.co.uk directly to your e-mail, you can subscribe to us for free by
entering your e-mail address here
and confirming your subscription by clicking the link that will be sent to your e-mail address.
Topics: Barack Obama, Iraq, President Barack Obama, Software, War on Terror