Tiger Woods at the British Open 2010: Drops the F-Bomb
British Open Championship Update – Tiger Woods was defeated in the British Open Championship 2010 as South African golfer Louie Oosthuizen took the title. Howver, Tiger did not left the Open Championship without a controversial act caught on video.
Tiger Woods was caught deeply frustrated over the 13th hole in St. Andrews and he missed a short putt for par. He was so frustrated that he began uttering the F-word.
It was his seventh competition which he did not won and his frustration really did show. Multiple F-words were heard from Tiger Woods at the British Open 2010 and it is not a good show of a good sportsman.
Here is Tiger Woods with his F-bomb at the British Open 2010 championships final round.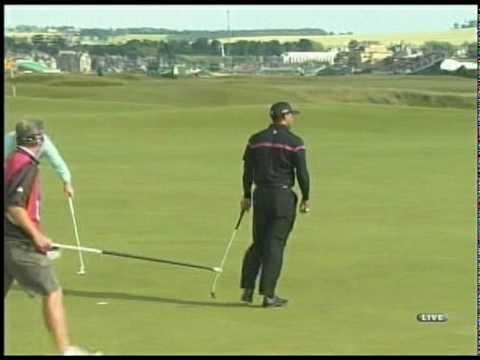 To receive updates from WWNN.co.uk directly to your e-mail, you can subscribe to us for free by
entering your e-mail address here
and confirming your subscription by clicking the link that will be sent to your e-mail address.
Topics: British Open, Golf, The Open Championships, Tiger Woods
Latest Headlines
In The News
Two great fighters are expected to
Following the decline in sales for
The NFL Super Bowl is one
Super Bowl XLV has been the
The recently concluded NFC championship which