UFC 117 Silva vs Sonnen Fight Video and Full Results
UFC 117 Silva vs Sonnen Fight Video and Results – UFC 117 features an interesting battle for the Middleweight Championship between current champion Anderson Silva from Brazil and challenger Chael Sonnen from the United States.
During the pre-fight press conference of the UFC 117 Silva vs Sonnen Fight, Sonnen had fighting words for his opponent and dares to win the belt and crush his opponent.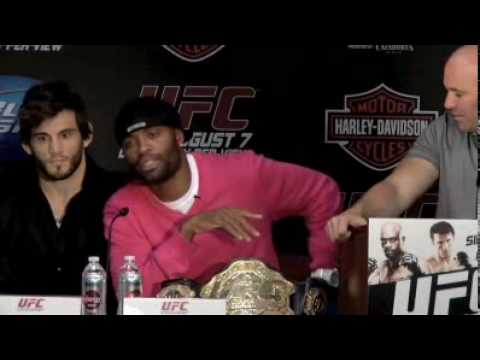 However, during the UFC 117 Silva vs Sonnen fight itself, the story made a tragic turn. It was the champion who won the fight and Sonnen ends his quest a defeated fighter.
The UFC 117 fight between the two however was something that will be remembered in the history of the Universal Fighting Championship. Both Chael Sonnen and Anderson Silva were great fighters and both of them did their best. The match ended in the fifth round, a very rare occurrence in a UFC match.
Silva defeated Sonnen via submission (triangle choke) at 3:10 of round 5 to retain the UFC Middleweight Championship. This was only one of three fights in UFC history to end in the 5th round. The others were Randy Couture vs. Ricco Rodriguez at UFC 36, and B. J. Penn vs. Diego Sanchez at UFC 107.
Great fight between Silva and Sonnen and it is all captured in theshort UFC 117 Silva vs Sonnen Fight Video clip we manage to get via YouTube.
Meanwhile on the Catchweight bout (171.5 Ibs), Fitch defeated Alves via unanimous decision (30–27, 30–27, 30–27).
For the rest of the UFC 117 Silva vs Sonnen Highlights and Results CLICK HERE.
DISCLAIMER: The author and this site waive responsibility to any copyright infringement that may occur since this video does not host on our server or reproduce any of the videos. The low quality Silva vs. Sonnen UFC videos are made available through embedded links or streams publicly available on popular video hosting sharing websites. We recommend visitors to visit official UFC website to watch high quality videos on PPV.)
To receive updates from WWNN.co.uk directly to your e-mail, you can subscribe to us for free by
entering your e-mail address here
and confirming your subscription by clicking the link that will be sent to your e-mail address.